Being one of the most notable product lines in 2020, Wilson Staff Launch Pad Golf Irons have claimed themselves as an advanced design.
The outstanding feature is to make the long irons more playable.
Many golfers aspire to own these up-to-date items. Is this the truth? 
Read this Wilson Staff Launch Pad Golf Irons review to find out!
Wilson Staff Launch Pad Golf Irons

Product Highlights:

Using the latest technology

Hollow construction supports an incredibly thin face for maximum ball speed and increased distance.

Friendly to amateur golfers 

Much wider sole 
Related:
Pros & Cons
Before getting into more details, I would like to give you an overview of the advantages and drawbacks of Launch Pad Golf Irons. 
Pros:
Stunning iron outlook

Friendly to amateur golfers 

Much wider sole 
Cons:
Considerably high-priced

Not a great item for people looking for the feel in the short irons
Design and Technology 
#1 – Design
At first sight, the Launch Pad Golf Irons have caught golfers' eyes for their minimalistic and modern designs.
Thanks to the iron material, overall, these Launch Pad golfs look shiny and glowy under the sun. 
They combine two classic shades of black and bright silver. 
The attractive appearance of W/S Launch Pad Golf Irons
Each Wilson Staff club displays on its base the name Launch Pad, the LP logo, and an iron number.
Let's not forget the brand's signature logo: a small Wilson Staff shield.  
The Wilson Staff Launch Pad is an interesting hybrid-iron set that I have recently experienced.
To be more specific, the 7-iron is 30° with a shaft length of 37.5 inches.
This feature makes it much longer than most 7-irons from other brands, yet it still shares the same length with a stock TaylorMade P760 6-iron.
Furthermore, I believe that Launch Pad Golf Irons come in every size that any golfer could ever dream of. 
#2 – Technology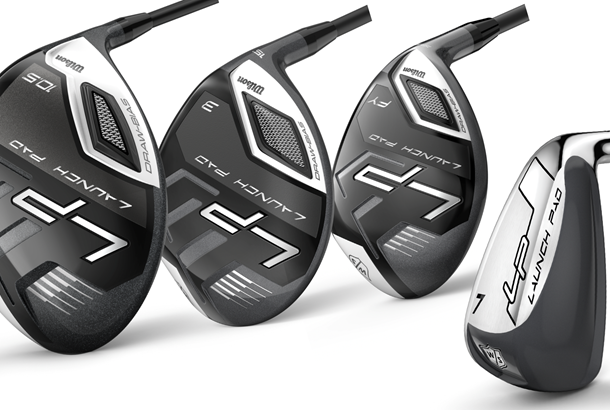 Having long irons and wider soles, they are more convenient than traditional designs.
Players are able to perform consistently, hitting golf balls to greater distance and less chunking. 
Thanks to this improvement, the set has proved to be appropriate for handicapped players as well.
Using the latest technology, the Wilson Staff clubs prevent the sole from digging deep into the turf during collisions. 
In wet conditions, compared to my current 8 iron, it often digs deep into the ground and only creates the ball's flight at 70 yards.
But with the Launch Pad that has a shallower divot and a slower clubhead, the ball could carry more than 100 yards.
Features & Benefits
To see if the W/S Launch Pad Golf Irons meet your requirements, I would like to give you a better understanding of their 5 outstanding features:
#1 – The midsize grip  
With the comfortable midsize grip, it easily meets the demand for the physical fitness of many people.
Therefore, it allows golfers to be more confident with each swing. 
#2 – The lightweight shaft 
However, I am most impressed with the lightweight shaft that helps me create high clubhead speeds with much less effort. 
#3 – Hollow Construction 
This special construction can assist golfers in maximizing effectively ball speeds and intensifies the ball's flying distance. 
#4 – Improved Launch Pad Sole
Thanks to its wider and advanced float over the turf sole, golfers will have less chunking and higher launching ball's flight. 
#5 – Smooth sound 
The LaunchPad Golf Irons produce clicky and fast sounds.
However, the pitch definitely varied as you changed from the larger long irons to shorter ones.
The scoring irons seem to be pretty quiet. 
Performance 
Right at the first trial, my partner and I were stunned by the W/S Launch Pad Golf Irons' performance.
They worked exactly like what the manufacturer has claimed.
Featuring afloat above the turf sole, they made the balls form arcs and land beautifully on the grass. 
For me being a low-hitting judge, I was very careful when switching from utility irons to hybrid irons.
What a surprise! I had a nice trajectory and a reasonable distance throughout the 4-PW range.
The 4 and 5 Wilson Staff LaunchPad Irons launched high balls that flew long distances and landed gently.
Thinking before buying  
As a norm, we consider every relevant aspect carefully before committing to any purchase, even the Wilson Staff set.
So are they a worthwhile investment? 
Are they worth the investment?
First, some may think that they look so professional and might not be appropriate for a newbie.
But believe me, this set is designed for both amateurs and pros, as it allows a lot of forgiveness.
Moreover, it will be a good option for those who are struggling with ball-striking. 
Secondly, commensurate with their quality, their prices are also quite high.
A penny for my thought,  this is, regardless, a beneficial long-term investment. 
3 Alternatives 
In case The W/S Launch Pad Golf Irons are not what you are looking for, I would like to mention some alternatives that may suit you better.
#1 – TaylorMade SIM MAX OS Irons, Steel Shaft
TaylorMade SIM MAX OS Irons have long irons and thicker soles than W/S clubs, making them an ideal replacement for W/S clubs.
They are effective, especially with straight shots. 
However, their prices are higher, and they might be a little bit more spin.
So, as far as I can tell, TaylorMade SIM MAX OS Irons are much more exquisite with complicated design and mix-match fashionable colorways. 
#2 – Cobra Golf 2019 F9 Men's Speedback One Length Iron Set
Pretty similar to W/S clubs in functions, however, Cobra Golf 2019 F9 Men's Speedback One Length Iron Set is more expensive.
Its design is also more colorful and looks outstanding in blue. This set contains 9 golf clubs. 
#3 – Callaway Golf 2019 Big Bertha Iron Set
Having only 3 pieces, The Callaway Golf 2019 Big Bertha Iron is a smaller set.
Once again, this set is suitable for beginners at a more reasonable price.
Though, some golfers complain about its design, for the black finish chipping easily and showing more apparent scratches. 
FAQ 
#1 – Can left-handed players use this golf set?
There is no need to worry because Wilson Staff designed the LaunchPad model for both left and right-handed people. 
#2 – How many golfs are included in one set?
Wilson Staff Launch Pad Golf Iron set includes 7 clubs in total: a 4, a 5, a 6, a 7, an 8, a 9, and a PW.
#3 – Can people start playing golf with this set?
Yes, of course! Like I said before, this set is suitable for beginners.
They are definitely lighter and more comfortable in your hands than the mix-and-match set.
#4 – Which clubs should be used to improve skills?
To up your game, you should use short irons from 7 to SW.  
#5 – Which clubs should be used to have a consistent ball striking at far distances?
The long irons from 4 to 6 with wider soles will probably be a good choice.
Conclusion 
I hope you could find useful information in this Wilson Staff Launch Pad Golf Irons review.
In the testing, this set has shown its advantages in both long and short irons. 
Thank you for reading.
FURTHER READING: