Is Titleist 716 CB truly as good as it claims to be?
Is it worth paying money for?
If you're still asking those questions, then you've come to the right place.
In this short Titleist 716 CB review, I will show you why this product could be a good choice for any golfer no matter how amateur or professional they are.
Sounds good?
Let's begin.
Titleist 716 CB Iron Set

Product highlights:

Fantastic look
Optimized CG progression ensures precise,
High-density tungsten weighting
The best sounding and feeling blades
Reasonable price for such qualities
Pros:
Fantastic look
Solid forged feel
The best sounding and feeling blades
Optimized CG Progression
High-density tungsten weighting
Precise, Tour-proven trajectory
Reasonable price for such qualities
Cons:
Not much changes in design compared to the old lineup
Related:
Design And Technology
Design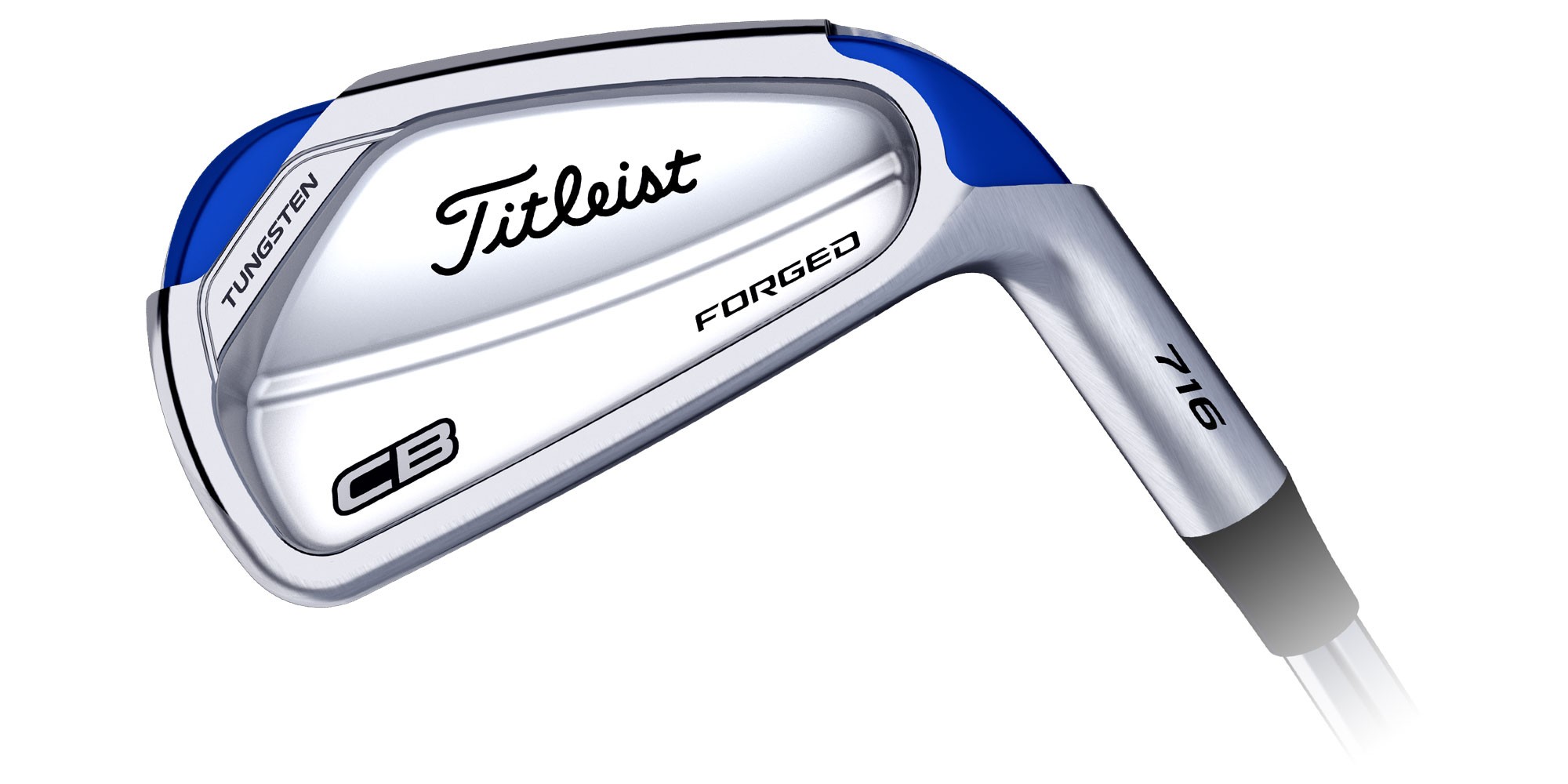 At first sight, I quite like its look, it's simply elegant, understated, and classic in design.
This new model has been given a multi-material design.
There is very little difference in appearance between this iron and its 714 predecessors.
I can say that they are virtually identical from the size, the very slim topline to the offset.
The biggest change may lie in the curves and branding of the respective cavity of the club.
It's a minor cavity back with muscling but they have now got Tungsten weight in the heel and toe to boost moment of inertia.
The muscle back is more pronounced in comparison with the CB 714 to get the sweet spot lower and make a perfect balance of sound and feel.
The additional tungsten to the design of the iron makes it remarkably easier to hit, without compromising the look and feel of previous models.
Technology
Precise Distance
The high-density tungsten weights added during the manufacturing process has lowered the position of the center of the cavity to reduce twisting in the impact point.
To be frank, I have always been a blade player and I was trying to find an iron offering more distance control and forgiveness.
I personally find these irons are kind of forgiving and I am capable of controlling trajectory better.
I love its distance consistency even when I take some slight off-center shots.
Forgiving Blade
Titleist has had innovation in the forging process.
It puts an additional amount of tungsten low to increase the center of gravity and along the perimeter to increase the moment of inertia and give more forgiveness.
New Stock Shaft
This product line usually goes with a variety of shafts but Titleist has brought a BRAND NEW STOCK SHAFT to the market for the first time.
It's the Dynamic Gold ATM, also known as Ascending Mass Technology shaft.
Performance
I would say the consistent performance is what I love most about this lineup.
The performance of this model is certainly improved against the former 714 CB irons.
The shotmaking might be its strongest feature.
As for sound and feel, I would honestly say that they have one of the best sounding and feeling blades.
It can produce a very soft, quiet click with a good thump from the ground at impact.
The most obvious change from its predecessors is exactly the more solid feel.
The improved feel can be beneficial a lot to you when it comes to hitting the sweet spot.
It makes you more confident and precise during your swings and gives you forgiveness as you take a slightly off-center shot.
The forgiving effect achieved by putting tungsten in the heel and toe makes this generation suitable for low handicap players who are looking for feel, control, and playability in an iron.
Forgiveness
Actually, these products can be more forgiving than they look.
The previous irons such as 716 AP1 offer pretty much more forgiveness but these golf clubs are the most forgiving for a player's cavity back iron.
When I hit a ball with my CB 716 irons I can truly feel the difference.
I wish that I bought them sooner because of the fact they are the most forgiving club I have ever played for the past few years.
I can not think of any forged irons that have used this material and created such a good effect.
If you are just like me, then this is exactly what you are looking for.
How Does The Titleist CB Iron Set Compare?
Cobra Men's F-Max Complete Set
There are black and red versions for customers to choose from.
High handicap male golfers would love the F-Max because they are regular flex clubs.
With Superlite Graphite material, these products feature COBRA's lightest and most forgiving irons.
Wilson Staff Golf Men's Right-Handed Blades
The Wilson Staff Golf Men's Right-Handed Blades have the same color, flex, and are available in right-hand orientation as the 716 CB but are much lighter.
Unlike the 716 CB irons, when hitting a shot, these models will produce a robust impact sound.
They have silhouettes such as compact length, slender topline, and virtually no offset.
TaylorMade SIM MAX
This product line of the TaylorMade brand has a big change of color with a softer blue, grey, and black which is very easy on the eye.
These irons have regular flex shafts and are comparatively light to hold.
Plus, Revolutionary Speed Bridge technology supports the topline of the iron to create explosive distance and forgiveness with better sound and feel.
Contrary to the three above models, the TaylorMade SIM MAX is a little bit cheaper and perfect for those who are left-handed.
FAQ's
#1 – Should I buy the whole set or buy them individually?
Actually, it depends. If you're new to this game, you should purchase the golf clubs by set so you can experience consistency and determine which iron matches your height, posture, and swing speed.
#2 – Is there any other shaft for me to choose apart from the Dynamic Gold ATM?
Yes, definitely. You can have three options for the same price: Dynamic Gold, Tember XP, and KBS Tour but you need to pay an additional amount of money if you want other available shafts.
#3 – How do the 716 CB irons and the AP2s compare?
Ok, good question. It's hard to tell exactly which one is better than the other because both of them have advantages and disadvantages. Some people say the AP2s really move forgiveness and speed up a level but you should try them for yourself to determine which kind is suitable for you.
#4 – Can left-handed people handle this model?
Currently, these irons only come with a right-hand orientation so I'm afraid they are not a smart choice for left-handed golfers.
#5 –  What about the return and refund policy?
If you're not satisfied with any product, you may return it to the manufacturer for a refund. You can check it out on Titleist's website for further information.
Conclusion
I highly recommend the Titleist 716 CB irons for those who are seeking an upgrade from the prior generation.
They are the smart choice for any golfer expecting to master their swing, increase forgiveness, and make better achievement to get full confidence in every strike.
Further reading: