You are taking up golf, but are still confused about what laser rangefinder you should buy?
In fact, you may encounter a sea of laser rangefinders on the market with the functions looking rather indistinguishable, if not identical.
Now, if that tremendous number of products are making it impossible for you to narrow down your options.
Let's take a look at this Nikon Coolshot 20 Golf Laser Rangefinder review!
And you won't be disappointed.
Nikon Coolshot 20 GII Golf Laser Rangefinder

Product highlights:

Increased range and accuracy
Compact, ergonomic design
Rainproof
Bright, clear images
Quick, easy measurements to multiple targets
Pros
Ergonomic look
Compact
6x magnification lens
Ease of use
Cons
A little bit small for some people
Related:
Design and Technology
Design
At first glance, you may find that this product is, by all means, compact.
With a length of 3.6 inches, a width of 1.5 inches, and a height of 3.6 inches, it is small enough to be held firmly and comfortably in your hands.
Besides, the total weight of this product is only 0.66 lbs.
This means it is lightweight and does not take much effort to grasp.
Also, as it will not take up much space, you can put it in your bag or pocket and carry it around with ease. t.
In short, this is a really perfect choice for both types of golfers, those who walk a few holes and those who walk the entire course.
Technology
As far as the rangefinder is concerned, it is essential to pay attention to the lens.
The Coolshot 20 is built with a magnification lens of up to 6x, which means you can get an accurate image of up to 1,650 feet.
In addition to that, it comes with an eyepiece focus diopter that is used to focus objects in your specific vision.
Plus, thanks to the long eye relief of 0.8 inches, you can use this product with eyeglasses or sunglasses.
Furthermore, with the advanced identification and quick multi-target mapping, you will no longer have to wait for a second indicator like when using a LED or a vibration.
What is more, once it has taken the measurements, it will automatically show the result on the display.
If you take multiple measurements, it will show the distance to the nearest or the first target among them.
This helps you determines the scores quicker than ever.
Look and Feel
Look
It comes in the color of white and black, which gives itself an ergonomic look.
What is more, the names of the brand, Nikon, and the version, Coolshot 20, are printed clearly on the unit, helping customers pick the product much easier.
Feel
To be honest, this laser rangefinder gives users a feeling of ease of use.
The only thing you need to do when measuring is to point the rangefinder at the target, push the rear button, and you will get the result on the display.
After about 8 seconds, it will be ready for use again.
Performance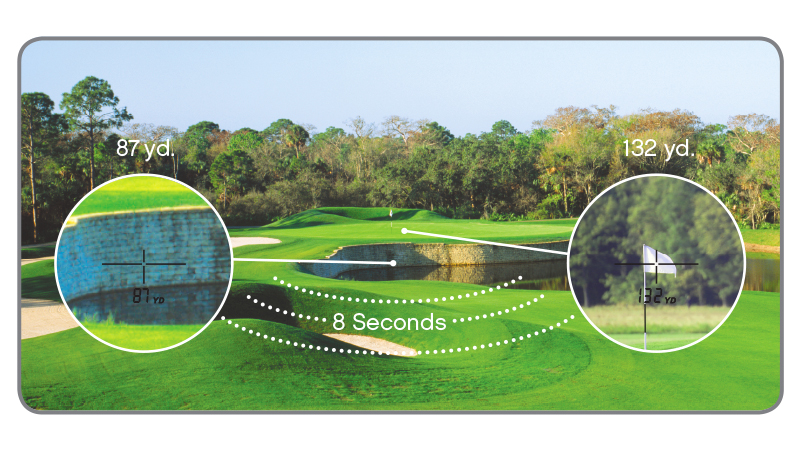 All things considered, with all of the features that this laser rangefinder offers, it is a wise choice for both novice and professional golf players.
It is easy to use with high-quality views and accurate results.
Value for Money
More often than not, the average cost of a golf laser rangefinder is from as low as $200 up to $700 and more, depending on the quality of the views and materials.
And when it comes to products from Nikon, the lowest price falls around $150 and the highest one is usually $550.
In fact, compared to other golf balls brands, it is much cheaper.
Still, it does not mean the product is not quality.
In turn, it is one of the top-choice products on the market.
And trust me, it will not let you down!
Alternatives for Nikon Coolshot 20
TecTecTec ULT-X Golf Rangefinder
If you are looking for a rangefinder for a vast course, then the Nikon Coolshot 20 may not be the best choice.
It is for the measurement within 1,650 feet.
Instead, let's take a look at the TecTecTec ULT-X.
It is as accurate as of the Coolshot 20 but is able to measure at a distance up to 3,000 feet.
Precision Pro NX9 Laser Rangefinder
And now, for a sloped surface, let's come with the Precision Pro NX9 Laser Rangefinder.
Thanks to the adaptive slope technology, it can provide accurate distances on both sloped and flat surfaces.
Also, you can turn off the slope function for tournaments.
Bushnell Tour V4 Jolt
If you are still worried about the laser getting blocked by flags, then the Bushnell Tour V4 Jolt will wipe it away.
The Bushnell jolt technology enables you to reinforce the laser with short vibrating pulses.
And then, you can get a more precise aim!
Frequently Asked Questions
Can You Use a Golf Laser Rangefinder for Other Sports?
Yes, of course! In fact, it would be better to use it for hunting, archery, bird watching, beachcombing, or anything outdoors that requires accurate images.
Do Dust, Fog, Rain, Smoke, or Wind Affect Accuracy?
To be honest, such weather conditions such as dust, fog, rain, or smoke do cause inaccuracy.
They contain small particles or droplets of water that hinder the light of the laser, making it unable to reflect the measurement to the device.
Therefore, the measurement in these cases is not reliable.
Still, when it comes to wind, it does not leave serious impacts on the result.
How Long Does a Battery Last?
It is hard to answer this question as it relies largely on the frequency of use.
To be more specific, the more times you use the rangefinder, the more energy it consumes.
In fact, the batteries in your device typically last for 40 or 50 rounds.
How can You Change the Measurement Unit?
You can check that next to the rear button, there is a smaller button.
Press this button and you can change the measurement from yards to meters and vice versa.
Meanwhile, with other laser rangefinders, you may have to hold the button for about 3 seconds to change this factor.
Where should you Store the Rangefinder?
If you are not using your rangefinder, then find a place with room temperature to store it.
Surely enough, the rangefinder can work in cold or wet conditions.
However, you should not expose it to the extreme temperature and humidity for a long time as it may have some adverse effects on the product.
Conclusion
Here is the end of the Nikon Coolshot 20 Golf Laser Rangefinder Review.
It is, without a doubt, an adequate product for those who are looking for ease of use when taking up golf.
Hopefully, through this article, you can understand more about its features and thus, being able to make a wise decision.
And now, thanks for reading!
Further reading