It might sound a bit crazy to play golf in the cold.
Especially for people who live permanently in the cold season, playing this club-and-ball sport is not easy.
But nothing is impossible since golf has become one of the most favorite sports in the world.
Therefore, our article will aim to give you guiding tips about how to practice golf in winter.
Scroll down to read!
Related:
How To Practice Golf In The Winter For Golfers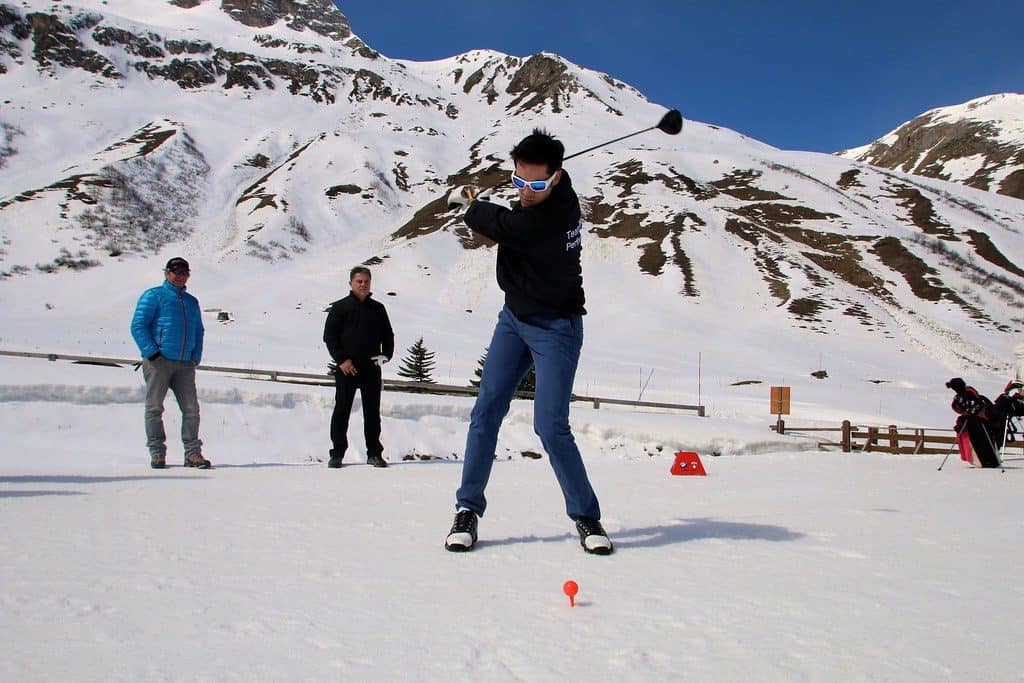 Drills and techniques are the most important factors that any pro golfers must obtain.
In this part, we are going to share with you basic drills and their techniques. Let's check it out!
Golf Swing Plane Drill
The plane drill will guide you on how to finish the backswings after the club on-plane.
In other words, if your club is set on a plane halfway back, the only thing you must do now is to do a body turn to complete the backswing.
Golf Swing Tempo Drill
This technique will help you to make the backswing and downswing implemented at the same speed.
To do the tempo drill, you have to count your swing in your head and accomplish it in a balanced position.
As a result, you will make a great strike at the highest speed at the impact.
Lag And Sequencing Golf Drill
To get a good lag, you have to start the downswing with a bump of weight forward while spreading your lower body.
At the few first attempts, don't spend your whole force, just start hitting strongly in the middle time.
After that, throw iron shots with a swing at your medium speed.
When you do this drill right the club lag, your arms are placed behind.
Swing Path Golf Drill
With this drill type, you have to place small balls ahead and behind the main ball first, making them a diagonal line.
Secondly, setting up your position with your gloved hand on the club will correct your shoulder.
Keep your left shoulder still while putting your second hand on the club.
Finally, hit the small ball without contacting the ball behind and in front.
Swinging Clubs Techniques In The Golf Course's Snow
Doing golf swings requires specific techniques and determination of golfers.
It gets even more difficult when you do it under low temperatures.
There are guiding tips that can support you to work on your swing even in the cold. Details as below:
– Focus on flexibility during the winter season.
It means you can use the low temperature to improve your physical health, like gaining more muscles, losing a few weights, and improving your immune system.
Also, you can join fitness programs and do aerobic exercises for more effective training.
– Practice golf at indoor driving ranges.
In case the temperatures get too low, or you work in the daytime, then practicing golf swing in some domed facilities would be an option.
Ask the golfer community in your areas for indoor training ranges that open late in the evening.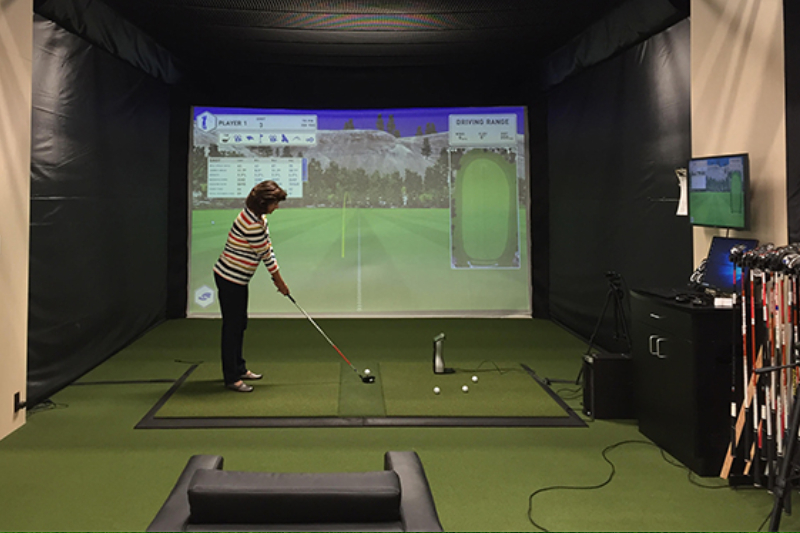 – Practice with a weighted club in your garage.
Training with weighted clubs will improve your strength, flexibility in your arms and wrists, as well the speed of your clubhead.
– Practice your swings.
You also can practice your golf swing without balls.
Focus on each swing you do, and adjust it.
After doing this activity 100 times, you will see how your swing skill performance improves surprisingly.
– Work on your grip indoors. Working on your grips will lead you to manage the club better.
It also requires you to use the right tension from your hands and arms.
– Practice golf at winter golf courses.
Joining a golf course that launches in winter is also a great idea.
There you can practice golf with other golfers, make friends and compete for your golf skills with them.
Build A Plan
Building a plan, why not? A personal plan can keep you on the way and better practice.
There are few things that you need to write down into this plan.
Technique
For every golfer, the technique is the first step most important factor that contributes to their success.
There are basic techniques that you should pay more attention to, such as swing drills, chipping, pitching, and wedge play.
And, you must know to use all these techniques well, from basic to higher levels.
We suggest you work it out in cold conditions. Adjust it in the ways that help you play the sport the best.
Practice
Nothing will be improved without practicing.
After you define all required techniques, keep doing them every day or several times a week.
Set targets for yourselves and try to beat your personal best score.
Furthermore, the more you practice, the better you create your strengths and improve your weaknesses.
Conditioning
Let us explain this determination in detail.
Conditioning in golf means you have to find what technique you can apply well.
To us, we spend more time focusing on hip rotation, mobility and turn them into strength.
Psychology
In our view, there are many other things you should write down in your plan, and last but not least, the mindset.
Possessing a great mindset during the game, you can overcome any tackle.
To build up a  good mindset, be confident, work hard on your goals, and always be optimistic!
You will be surprised at how much better you can become with good thoughts.
Your weakness might even become your strengths.
The Bottom Line
Through this article, we hope you have had an overview of how to practice golf in the winter season.
It is not easy, but it doesn't mean you can't do it.
It is time for you to write down necessary notes, give yourself a little bit of effort, and a lot of patience.
You will soon master this club-and-ball sport.
Further Reading: