Today, we will share with you our Callaway Strata Ultimate review.
It is safe to say this golf set is one of the best golf clubs set for beginners in the current market.
In this article, we will take a look at the pros and cons of this set for you, along with its main features.
So check it now!
Strata Men's Regular 16-Piece Golf Packaged Set

"The Callaway Strata Ultimate Golf Set will not let any high handicappers and golf newbies down!"

Product highlights:

Ultimate distance and performance
Full titanium golf driver
Great hybrids
High flight technology
Better accuracy and distance control
Pros & Cons Strata Ultimate
In a nutshell, the strata golf set boasts a lot of advantages that will win your heart.
However, there is also a con that undermines its overall performance.
Pros:
Come with excellent woods, a 460cc titanium driver head, and a big sweet spot.
Two hybrids for lower iron replacement
High flight tech irons upgrade
Excellent precision and distance control
Cons:
Uncomfortable bag on shoulders
The next part of our Callaway Ultimate review today is the reason why this set is ideal for beginning golfers.
Related:
Design and Technology Strata Golf Set Reviews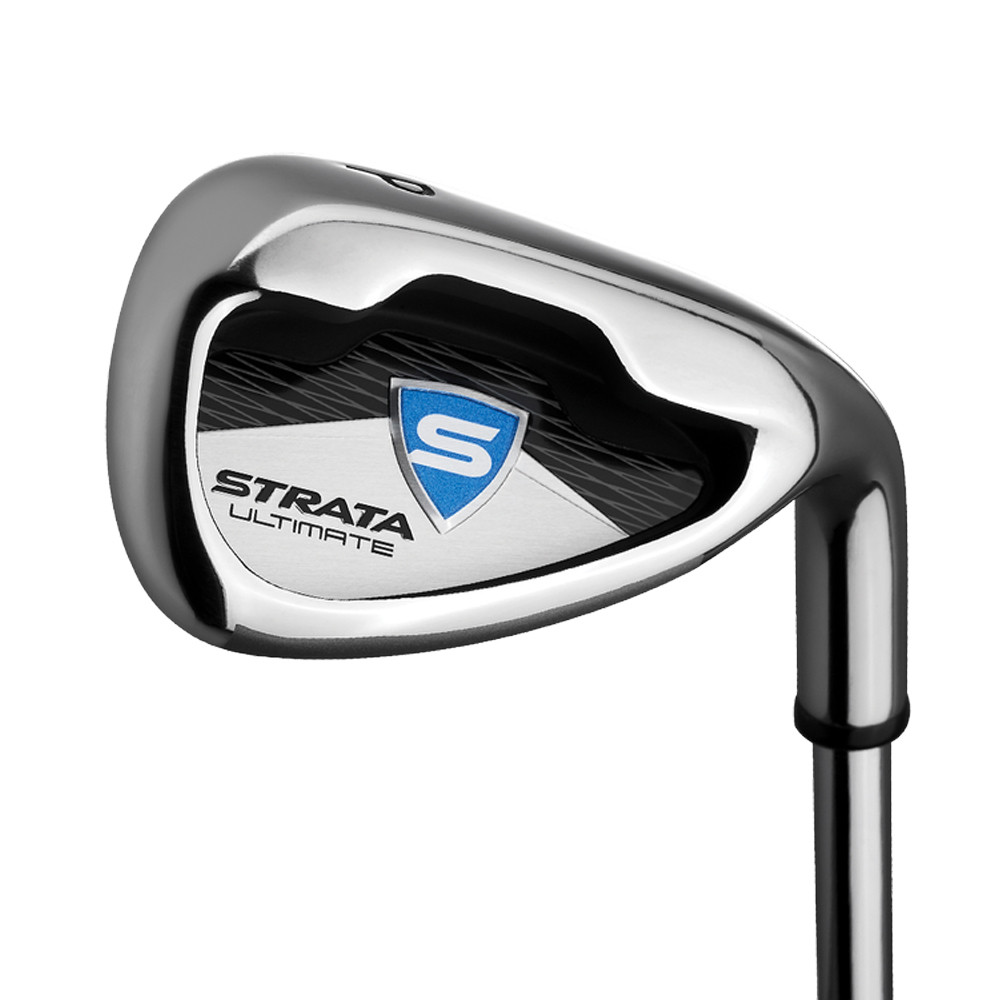 This Strata Ultimate Golf Set comes with a simple design.
The set is available in a cool blue, white, and black scheme, which appears to be simple but refined.
Every club is designed to offer maximum performance and extreme forgiveness.
Up next, the clubs are spaced evenly in the set so that you can have perfect distance coverage.
The fairway and driver provide the biggest club heads that are allowed by the golf rules as well as forgiveness into a budget-friendly set.
Also, you will find each iron and hybrid is created to boost the swing speed for you through the aerodynamic head shapes.
Not to mention, the blade putters come with a similar shape, just like the tour high-end putter heads.
This feature seems to increasingly prove that the Strata golf set is actually value for money.
It's safe to say each club in this set is produced to deliver performance right at launch.
And the combination between each shaft and head can deliver easy-to-hit clubs.
In a nutshell, golfing is quite complicated, yet this club set can make it much simple for those who do not have much time and money.
Features & Benefits Callaway Strata Set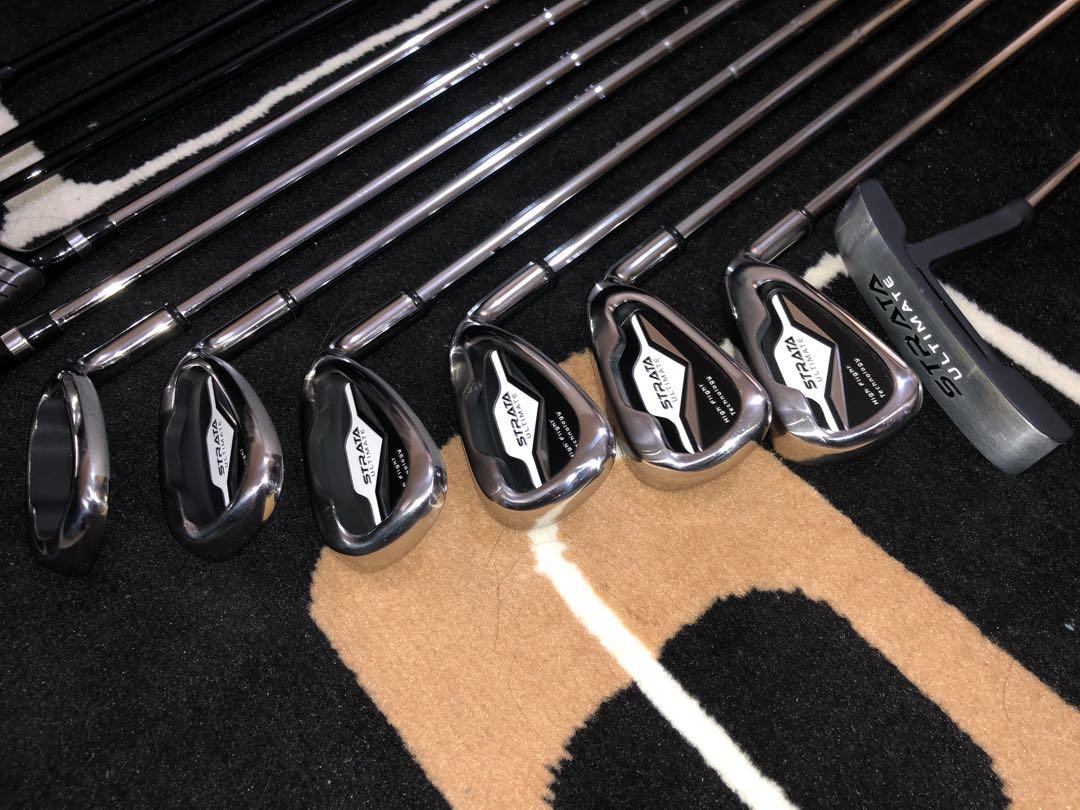 Let's dive into the features and benefits of the set in our Callaway Men's Strata Ultimate Review.
Callaway 460cc titanium driver
As a driver plays an obviously crucial role in a golf set,
golf newbies should choose a product with a suitable driver if they want to improve their golfing skills.
That's why the Callaway Strata Ultimate is ideal for golf novices.
It comes with a titanium-made 460cc driver of 10.5 degrees and a standard length of 45.75″ inch.
Along with that, it also features a big leading to a perfect spot and off the tee box with superior forgiveness.
Three-wood
The loft of the three-wood in the Callaway Ultimate is 15.5 degrees.
This makes it become a dependable club for every high handicapper to make use of off the tee box to get the distance and consistency in their game.
Then, golfers can improve their golfing skills.
As the three-wood can keep the gravity center towards the club rear thanks to its low profile,
it can assist golf newbies in getting their ball into the air as far as possible.
Four and Five-Hybrid
The Ultimate complete golf set comes with the four and five-hybrid, which offer strong contact at impact.
Also, the club construction lets the club head's wide sole slide under the ball to gain a more superior launch angle and ball height.
On top of that, with the five-hybrid, you can gain a dependable club for the tee box as well.
Perimeter-weighted pitching wedge
Though it would be better if there is an additional lob wedge and/or sand included in the golf set,
a pitching wedge is still a great addition, which helps newbies hit a 100-yard pitch shot comfortably.
This pitching wedge is lofted at 44 degrees, this degree is a bit higher than what we expected.
That said, it still delivers excellent performance at all.
Blade putter
The blade putter in the strata set features steel behind its face, which enhances the flagstick on the green.
While many other putters have difficulties in offering quality jobs around the green,
the putter of the Callaway Ultimate performs quite well in boosting forward roll as well as getting the ball to the cups.
Multiple pocketed stand bag
Callaway set comes with a lightweight bag, in addition to some different pockets,
which can handle various extra necessities like valuables, rain gear, extra towels, and so on.
This bag features one rain hood, one backpack strap, five pockets, and one cooler pocket for cold drinks.
With two robust legs, the bag is ideal for those who want to exercise a little bit by walking.
Also, golfers who prefer to play golf in the morning will fall in love with this bag as it can
prevent the moisture from reaching the grip of the club.
However, the bag can be slightly uncomfortable for golfers to put on their shoulders.
Four head covers
Headcovers in the set can hinder and cover the head of the woods included.
You might not know this, but covers can partly contribute to the consistency of your shots.
The reason lies in the fact that after the rigors of traveling, woods can collect scratches as well as
cosmetic dings that significantly affect the drag on them.
Thereby, your shots cannot reach a level of consistency.
But with the covers, you can lower the risks of damage to the club head of the woods.
The complete Callaway set for high handicapper and beginners
It would be really better if high handicappers and beginners go for a full golf clubs set.
This is because they will not need to spend more time checking individual clubs.
And the complete set will best provide everything they need on a quick way to start playing golf.
The  Strata Ultimate complete golf set includes a driver, 4-5 hybrid, 6-9 iron, three wood, putter, PW – SW, stand bag, and four headcovers.
Alternatives Of Callaway Strata Ultimate
We have gone through the Callaway Ultimate 16 piece review.
Callaway set, once again, is an excellent choice for beginners golfer for its affordable price, yet outstanding features.
That said, there are still other choices that also offer deliver nice performances.
Luckily for you, we have compiled a short list below for your further consideration.
Wilson SGI Golf Set – Great for Walking Golfer
This Wilson SGI is the one for those seeking a sleeker and professional appearance in a golf package set.
This collection comes with 3 woods, 2 wedge, 4 irons, a blade putter, a stand bag, and 2 headcovers.
Precise NX460 Golf Club Set – Best for Limited Budget
These are also golf clubs set for beginner golfers with a limited budget.
Included in the Precise NX460 Golf Club Set is a driver, 5 hybrid, 3 woods, 6-9 irons, stand bag, 2 headcovers, a mallet putter, and a pitching wedge.
FAQs Callaway Strata
1. How many clubs do I need to have in the set?
There is a total of 11 clubs that you should have.
They include a driver, 3 woods, 4-5 hybrids, 6-9 irons, a sand wedge, a putter wadge, and a pitching wedge.
2. Can the clubs be bought with stiff shafts?
We have to say NO. The Callaway Strata Ultimate comes with conventional flex shafts.
3. Are the clubs suitable for a 17-handicapper?
Well though this golf set performs every job quite great, it is suitable for novices at golf.
For experienced golfers, it would be better if they purchase a higher-end set to meet their needs fully.
4. Are the shafts made of graphite or steel?
The fairway and driver woods are graphite, while the iron is made out of stainless steel.
5. Why is the pitching wedge as thick as the sand wedge?
Well, it's just the way the brand Callaway made this golf set.
You could buy a wedge with the ball bottom separately.
Final Thoughts Strata Review
So, we have done our Callaway Strata Ultimate review.
In short, the Callaway Golf Club Set will not let any high handicappers and golf beginners down.
We believe you can start your journey of golfing quite smoothly with got complete golf set.
If you have any further questions, please feel free to let us know in the comment section below.
Thank you for reading.
Further reading: